IT people know that it's all about planning these days. Indeed, with business continuity and disaster recovery featuring in so many of the news articles we write here at the IT Marketing Factory, we like to think we're more prepared than most.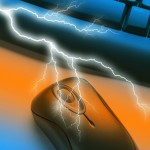 So as I prepared to take the family down to France for a 5-week holiday this summer – working remotely for some of that time, I hasten to add – my wife and I divided up the tasks equally. Whilst she took care of the passports, the tickets, dropping keys off with neighbours, the laundry, the packing, the goldfish and the children, I tidied things up at the office.
Now guess whose preparation went like clockwork and who was running around at the last minute like a headless chicken. OK, you've got it. But I still maintain there are some things you just can't prepare for.
My preparation list
– Tidy up all filing so colleagues can locate quotes etc. in my absence. CHECK
– Chair a team meeting to discuss all outstanding work in progress. CHECK
– Check all important passwords are known to key staff members. CHECK
– Upgrade to fibre broadband for a faster remote desktop connection. CHECK
– Confirm the broadband and phone line I ordered for our holiday villa has been installed. CHECK
– Run a complete server backup and store it offsite. CHECK
– Take a colleague through the nightly backup procedure. CHECK
– Ensure all PCs are plugged into a UPS. CHECK
– Confirm all key holders know the alarm code. CHECK
– Pray that our office is not struck by lightening the night before we are due to leave, reducing my computer to a smouldering wreck despite the fact it was plugged into an APC uninterruptible power supply. BUGGER.
And that's what happened. Well at least the server and other PCs survived the ordeal and our office didn't burn to the ground. No doubt we'll have to check the batteries in that UPS but, for now, I'm off to recharge mine.