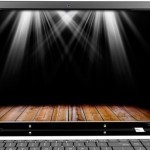 The ASA (Advertising Standards Authority) has ruled in favour of a complaint made by Vodaphone customers who said the mobile provider did not make minimum call time charges clear on its website.
The firm argued that these details were in fact displayed in a lightbox but the ASA ruled this was not an acceptable means of displaying terms and conditions as it did not make them visible enough. As a specialist marketing agency to IT companies, this case naturally caught our attention.
The IT Marketing Factory writes many websites for its customers and, whilst Vodafone may have been reprimanded for the use of this web tool, we can vouch that a lightbox can be a great feature when used in the right way.
A lightbox is a pop-up window that web designers can use on their web sites, enabling the display of content without visitors needing to click away from the page they were already on. Ideal uses for this tool are for picture galleries, portfolios and video content.
If you'd like to know a bit more about using lightboxes and whether they'd be useful as part of your web design, contact us at The IT Marketing Factory for information on this or any other aspect of online marketing for IT support companies – give us a shout on 01268 778555.