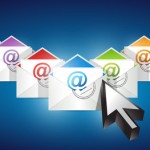 When you're working on your next email campaign, remember to put as much time and thought into your subject line as you do the content. It's the first thing your recipients will see and has the power to determine whether they open, ignore or simply delete your email.
As an Essex marketing agency running email marketing campaigns for a host of different clients, we spend many a long hour experimenting with different subjects. But don't just take our word for it. Other folk – far more important than our good selves have done the same.
Consider this: As part of Obama's presidential campaign last year, emails with subject lines such as "Hey", "Are you in?" and "Meet me for dinner" were sent. You may think they'd be marked as spam but, to the contrary, the email campaigns were hugely successful, generating a massive $690 million of funding for the campaign.
So to what can we accredit the success of these subject lines? You may be tempted to say, "Well he is the president, he's bound to succeed!" But there was a lot more to it than that. The final subject lines, along with the content and format of the campaigns, were a result of extensive split testing by his campaign team.
We found out ourselves this week just how powerful a subject can be in our own email marketing. Read rates and click-throughs from our first campaign with the subject line "Marketing for IT companies" were trebled when we sent the same content with the infinitely more catchy "We speak geek" as an opening gambit.
The 'catchiness' of a subject can grab the attention of a recipient, making them want to open it to find out who it's from, making them ask "whose subject line is this anyway?"
You can achieve better results yourself by following some simple guidelines to get that subject line just right:
Your results may not be quite what you expect. It goes without saying that the subject line will affect open rates, but it can all impact upon click through rates. Make use of all your email marketing reporting information at your disposal to identify trends.
Ensure your subject line relates to the content. If it is misleading you'll end up with a high number of unsubscribes and people marking your campaign as spam.
When split testing, change one variable at a time. If you are changing multiple elements as part of a single test your results won't be clear and you'll be unable to identify which made an impact.
Learn from your results and don't be scared to make changes. If you find a particular subject line achieves better results, make it permanent.