Email and social media are helping the world stay better connected. That's according to a joint report by Ipsos/Reuters which states that using services like email marketing alongside Facebook and Twitter could be the key to keeping the world stay in touch with each other.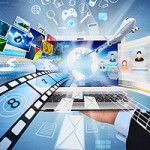 The survey, which questioned 19,216 people from a variety of countries, found that a massive 85 per cent of those connected online send and receive emails. Furthermore, 62 per cent converse via social media websites, Reuters confirmed.
The figures for email were particularly high in Hungary, with the survey suggesting 94 per cent of those online used emails. Sweden, Belgium, Indonesia, Argentina and Poland were also countries noted to have a high percentage of email users.
In terms of social media, Indonesia was the front runner, with more the eight in 10 visiting social media sites. Around 75 per cent of people in Argentina, Russia and South Africa also visit these platforms.
Keren Gottfried, research manager at Ipsos Global Public Affairs, commented on the statistics to Technorati: "It is true interconnection and engagement with each other. It is not just about a message back and forth but building messages across communities and only meaningful messages stick.
"It looks like a majority of the world is communicating this way," she added.